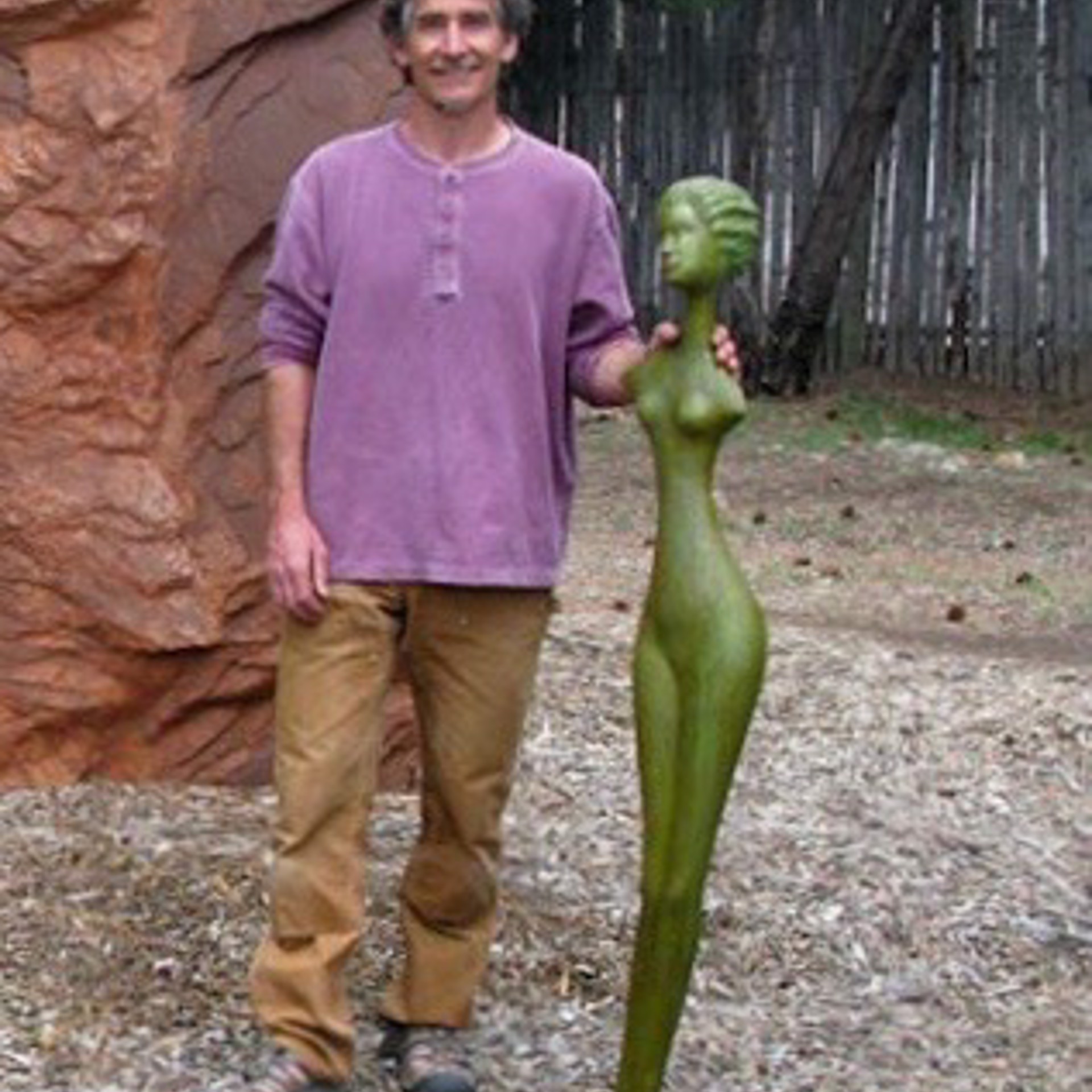 Expressing Situations and Beings in Human Form
Sculptor Troy Williams unites the timeless and the contemporary in sculptures of rare beauty and meaning
Beyond all the narrative potential of the three obvious physical dimensions of Troy Williams' sculpture there are many other considerations that contribute greatly to the enjoyment, appreciation, and understanding of his entrancing 360-degree works of figurative art. Among these are the emotional responses and intellectual interpretations that first go into the artist's creative process and then into every subsequent spectator's viewings at least somewhat differently each time. Some artists insist on leaving these entirely up to each viewer, but Williams is glad to enrich the experience by inviting the viewer in for a little insight into the artist's intention. Certain ambiguities and unintended provocations might otherwise arise, as Williams uses original combinations of materials or ideas in highly original ways.
For the sophisticated clientele of Glenn Green Galleries Williams specializes in figurative and facial sculptures hewn from fallen woods he finds while running near his home in the mountains of north central New Mexico. Williams has in the past worked with exotic woods, but now avoids them in a desire to protect the people, plants, and animals that depend on a vibrant, healthy, and unexploited local ecosystems. Finding dead and downed wood also introduces an element of serendipitous chance into the sculptor's process of selection and inspiration. Nature provides an exquisite mass of workable solids, surfaces, patterns, and curves in cottonwood and the many varieties of juniper this sculptor favors. Troy Williams simply rescues these from the elements and then elevates them to timeless treasures by relating them to themes that express our deepest nature. Awake to the most beautiful twists, turns, and striations already present in these found mediums, Williams is naturally and passionately drawn to every stage of freeing the underlying sculpture. Following the wood's ingrained tendencies is always a creative guide for Williams.
Growing up in an Indiana farming community, his dad a family practice doctor and his mother an artist, Troy has always felt an affinity for the earth and especially its mountains. He initially came west to study agriculture at Fort Lewis College in Durango, Colorado, attracted there by a setting where his athletic nature could find full expression. His interest in an agriculture career gave way to his love of the mountains. In order to continue living in them and enjoy the hiking, climbing, and running he also loved, Troy worked for several years in a solar business, progressing from manufacturing to installations to design.
On a fortuitous errand for a cousin back home, Troy happened into silversmithing and began producing simple, hammered ear cuffs. At this point the artistic nature that he had earlier suppressed in favor of athletics began to emerge strongly, and he expanded into more complex designs as he learned and mastered goldsmithing and lapidary. Another quantum leap occurred when he made his first copper face for a pendant. He couldn't wait to see the face on a larger scale and was eager for the challenge of learning another art. He began sculpting metal, then stone, then came upon wood as his medium of choice. Wood had immediate allure: scented, expanding, contracting, and seeming to breathe. Williams was seduced by its warmth, the play of light on the complexion of its grain, and the inherent life force so evident in wood. He also learned to coax creative advantage from some of wood's pitfalls, like soft spots, tricky grains composed of woody xylem and softer phloem; and to avoid the conditions that make it splinter. A quality of segmentation or fragmentation characterizes Williams's sculptures and provides great visual satisfaction along with intriguing thematic provocation. One is struck by the beautiful outlines that might never be apparent had Williams not removed segments or created interior voids expressly to reveal them. When sculpting a face, Williams focuses on aspects that are mask-like, floating, and alive with contours that might not be visible were the artist to sculpt the full head. The segmentation in his exquisitely refined female figurative works incorporates solids, hollows, and curvilinear elements for reasons that are at once artistic, philosophical, and experiential.
Besides attending basic college art classes, to understand more fully the human figure, Troy spent a summer in Europe creating and studying figurative sculpture. He also spent time with an orthopedic surgeon, learning musculature by starting with a skeleton then building out the muscles individually in clay. He later spent more time studying with a forensic scientist, all towards having the correct figure as a foundation on which to exercise his artistic intention.
In a stirringly powerful figurative sculpture called "Drought," Williams depicts a magnificently exquisite female torso, soft and vulnerable, eternally beautiful. A coil of rusty barbed wire spirals up around her as the polar opposite of her gentle, life-affirming nature. "I, like most everyone, was struck by the horrid images of the oppression of women coming out of the Middle East," Williams explains. "Women in their burkhas begging for food, being beaten, disfigured, even murdered for 'family honor'," the artist explains. With those images hovering in mind, another female image struck me. In a coffee shop the cover of a regional tabloid showed a photo of a woman's torso with the words 'Roe v. Wade' written on the flesh of her midriff. Yes, we are lucky to live in a country where women are less bound than elsewhere, but isn't it also true that a segment of our society is for religious/moral reasons trying to bind women by taking away their right to choice? This is not a pro-choice statement on my part. The point is that we are all bound by our environment and/or society in many ways, and that throughout most of the world, women are bound much tighter than men. The original name for this piece was "Bound," but when looking at it, I get the same feeling as I do from looking out my back door. I look at those beautiful mesas with their red rock and green life and can feel a harshness about the air. The life-giving energy of Mother Earth is also bound, not by wire or society, but by drought. So now I call this piece "Drought."
Troy Williams's sculptures are about situations and beings expressed in human form. Beautiful and filled with meaning, they reveal rare genius, and should not be missed.
Troy Williams's sculptures can be seen at Glenn Green Galleries and Sculpture Garden in Tesuque five miles north of Santa Fe. Take Highway 285 to County Road 73 and travel one mile to #136 Tesuque Village Road, the first entrance south of Tesuque Village Market. (505) 820-0008.
Read More